ANGIE SWINDELL BIG BROTHER 10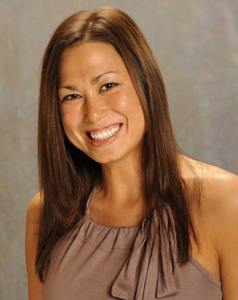 Angie Swindell of Big Brother 10
Age: 29
Hometown: Orlando, FL via Virginia Beach, VA
Occupation: Pharmaceutical Sales Representative
Marital Status: Single

Angie is a smart and sexy, Korean-American tomboy who can mix it up with the best of them. She is a recent divorcee who is happy to be single again.

Angie graduated from the University of Florida with a Bachelor's Degree in Advertising and is currently working in pharmaceutical sales. She has a good relationship with her parents who have been married for almost 30 years though she thinks her dad understands her better than her mother. She is a devoted sister to her mentally disabled brother. Angie is very protective of him and stands up against anyone who makes fun of her brother.

She describes herself as wild, entertaining and funny and loves to hang out with friends. Her favorite activities are working out, socializing, boating and traveling - basically anything that's fun to do. She is proud that she was the Guinness-chugging champion for women at Irish Kevin's bar in Key West. She enjoys watching college football and is a dyed in the wool Gators fan. She's also crazy about her miniature Dachshund whose name is Dixie.

Angie's ideal romantic partner is an alpha male, confident and muscular. She prefers dark hair, likes tattoos and has a few herself. She really wants to be with a guy's guy. That said, she's a romantic at heart and her favorite movie is "The Notebook."

Her birth date is July 2, 1979.

---

---
---
BigBrother 14 Cast
---
BigBrother 13 Cast
---
BigBrother 12 Cast
---
BigBrother 11 Cast
---
BigBrother 10 Cast
---
BigBrother 9 Cast
---
BigBrother 8 Cast
---
BigBrother 6 Cast
---
BigBrother 5 Cast
---
BigBrother 4 Castt
---
BigBrother 3 Castt
---
BigBrother 2 Castt
---
BigBrother 1 Castt
Reality TV Info
Philippines PonyTV
---