DICK DONATO BIG BROTHER 8 WINNER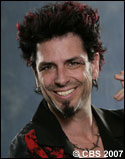 Dick Donato is in the house
Name: Dick Donato
Age: 44
Occupation: Actor
Location: Los Angeles, CA


Dick was Danielle's father in game and it wasn't long before the cat was out of the bag. Apparently they had a falling out earlier in life and this was the first time they had seen each other in years. Thoug the relationship was rocky and they did argue in the house, they kept a solid team relationship in the game. Dick was the loud man of the house yelling for people to take him on and out of the game but nobody could come up with the will to get him out of the game. So in the end he kept his promise not to vote his daughter off the show and she in turn did the same making them both an alliance that was unbeatable. Dick of course won that year and is now waiting for the Next All Stars to make another appearance in the Big Brother house.
He has also worked in Hollywood and was pirate in Pirates of the Caribbean as a stand in. He is well known in the industry and can be seen on RealPlayer interviews and shows about Big Brother.


Check out more on Dick here: Dick Message Board


Films
Star Wars, Indiana Jones Trilogy, V for Vendetta, The Matrix
TV Shows
South Park, Discovery channel, History channel
Actors
Johnny Depp, Al Pacino, Robert De Niro
Actresses
Angelina Jolie, Julia Roberts
Hobbies
Surfing, skiing, gardening
Sports to Play
Surfing, skiing, football
Outdoor Activities
Hiking in rainforests, jumping off waterfalls
Bands/Musicians
Guns N' Roses, Motley Crue, Marilyn Manson, Paul McCartney, Rolling Stones, Rob Zombie, The Ramones, Korn
Songs/CDs
Appetite for Destruction, Red, White & Crue, Marilyn Manson's Greatest Hits, Rob Zombie's Greatest Hits
Foods
Lobster, king crab legs
Cereals
Cocoa Pebbles, Golden Grahams
Cookies
Tollhouse (no nuts), white chocolate macadamia nut
Candy Bars
Snickers, Almond Roca
Alcoholic Drinks
Guinness, Jagermeister bomb
Non-Alcoholic
Diet Sprite, Diet 7 Up
---