JUSTIN SEDIK PROFILE PAGE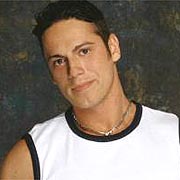 Justine got evicted for inappropiate behaviour!
   Justine played a tough guy and tried scarying his competition, threating Kent several times, gay bashing, finally holding a knife to poor Krista's neck. It seems Justine believed his time in the house was for conquest and all girls better watch out. CBS has gave Justine warnings of his behaviour but that one drunk night, which even Krista can't remember, he held a knife to her head and asked: "Would you mind if I killed you", and repeated several times. After the fact, CBS should have stormed the place the moment of but, after the fact, they called him into the diary room (Picture Below). Justine was out and all was forgotten.
Justine will not be favoured by Hollywood and his 15 minutes are up just as fast a William from Big Brother 1. Justine is a bartendar by trade. He currently resides in Bayonne, NJ and will definitely be not moving to Hollywood anytime to soon!
---
History
Age on show: 26
Single
Bayonne, NJ
Occupation: Back Office Operations/Bartender
Favorite Food: Italian
Least Favorite Food: Fish
Favorite TV Show: The Honeymooners
Least Favorite TV Show: Ricki Lake
Favorite Movie: Dumb and Dumber
Least Favorite Movie: The Blair Witch Project
Favorite Band/Singer: Smashing Pumpkins
Least Favorite Band/Singer: P. Diddy
Favorite Magazine: Men's Fitness
Favorite Sport: Football
Favorite Color: Gray
Least Favorite Color: Red

---
---
---


---
---
BigBrother 14 Cast
---
BigBrother 13 Cast
---
BigBrother 12 Cast
---
BigBrother 11 Cast
---
BigBrother 10 Cast
---
BigBrother 9 Cast
---
BigBrother 8 Cast
---
BigBrother 6 Cast
---
BigBrother 5 Cast
---
BigBrother 4 Castt
---
BigBrother 3 Castt
---
BigBrother 2 Castt
---
BigBrother 1 Castt
Reality TV Info
Philippines PonyTV
---