NEIL GARCIA BIG BROTHER 9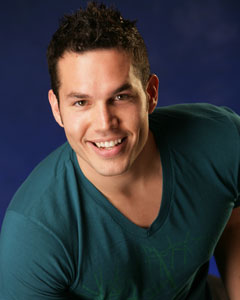 Neil ran out of the house he was scared
Age: 24
Status: Single
Job: Realtor
Lives: Los Angeles, CA

Neil is a gay man who resides in Los Angeles, California. He studied criminology, criminal justice, political science and business management in college but did not earn a degree. He is currently working as a real estate agent though acknowledges that it is a tough profession to be in right now.

Neil is close to his mother and says no matter what they are talking about they always end up laughing. She is currently in the throes of a divorce and he is definitely there to support her in her time of need.

He came to Los Angeles from Texas to pursue a modeling and acting career but gave it up when he encountered so many people there that he considers phony. He enjoys snow boarding, running, swimming, rollerblading, lifting weights, hiking and going to the beach. He plays dodge ball, kick ball, touch and ding dong ditch, which he plays with his little brother. He likes to watch figure skating, snow boarding and gymnastics.

Neil is currently single and describes himself as loyal, outgoing and energetic.

His birth date is September 16, 1978.




---

---
---
BigBrother 14 Cast
---
BigBrother 13 Cast
---
BigBrother 12 Cast
---
BigBrother 11 Cast
---
BigBrother 10 Cast
---
BigBrother 9 Cast
---
BigBrother 8 Cast
---
BigBrother 6 Cast
---
BigBrother 5 Cast
---
BigBrother 4 Castt
---
BigBrother 3 Castt
---
BigBrother 2 Castt
---
BigBrother 1 Castt
Reality TV Info
Philippines PonyTV
---