BIG BROTHER'S MOLLY MICHELLE KING
---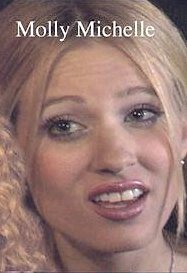 Molly Michelle King
Age: 20
From: LosAngeles, CA
Job: Model, Actor
Status: Single
Current News: Holly slipped up and stated she had a twin, so far that twin is Molly Michelle, but Holly said she is not suppose to talk about it. So it would seem CBS was gonna use Molly and Holly as switchers but in the end the went with Adria and Natalie. Molly and Holly got special treatment at the Hotel prior to the show including a photo shot. CBS was testing to see if these two girls could do a successful switch and kept them isolated from the rest of the houseguests prior to the show.

Molly was picked as an alternate for the twin twist.


Project DNA: Did you know Holly King and the Oak King were twin brothers in mythology? Holly also has a twin Molly!

Questions (not real)
Are you Holly sister?
Answer: No. I am a sudo name for Holly in the acting world. This is just another alias for me because I do bondage videos and other weird stuff that having Holly as the name would not be good. This is the bad side of me.

Is this True?
Answers: Maybe we may never know as Holly put it her family wanted nothing to do with Big Brother or her being in it and so they specifically stated she was not allowed to talk about her family in the show. So in reality this maybe her twin sister but due to legal issues and Holly not wanting to be apart of Big Brother her being a real person is still up in the air.

Favourites (not real)
Having everyone think that I was a real twin and I was coming in the house!


---

---
---
BigBrother 14 Cast
---
BigBrother 13 Cast
---
BigBrother 12 Cast
---
BigBrother 11 Cast
---
BigBrother 10 Cast
---
BigBrother 9 Cast
---
BigBrother 8 Cast
---
BigBrother 6 Cast
---
BigBrother 5 Cast
---
BigBrother 4 Castt
---
BigBrother 3 Castt
---
BigBrother 2 Castt
---
BigBrother 1 Castt
Reality TV Info
Philippines PonyTV
---